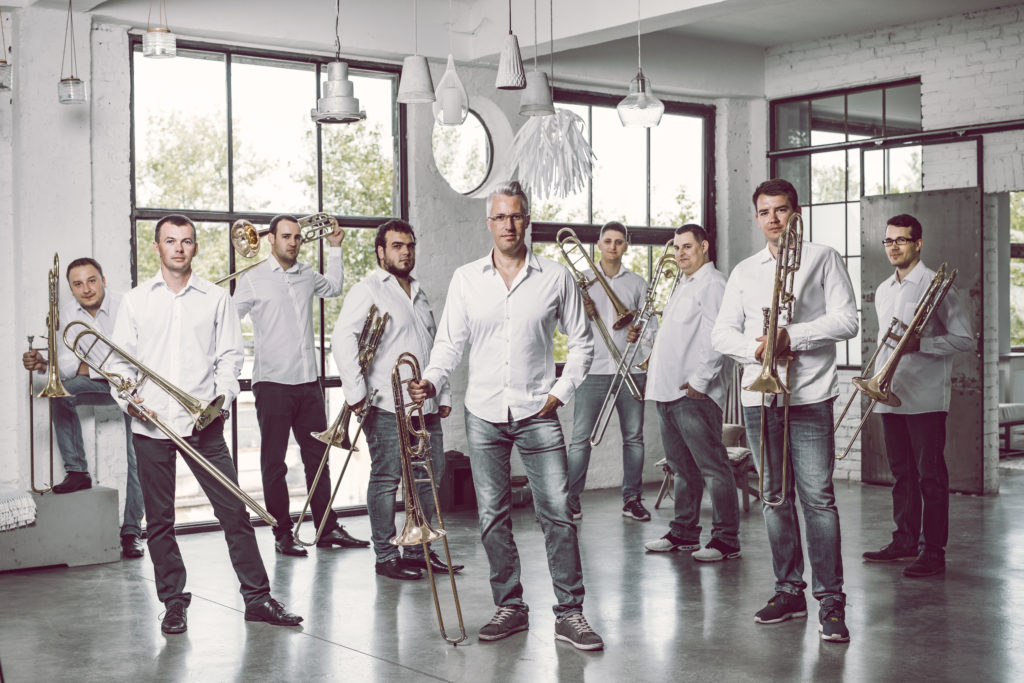 English profile follows after Japanese
セゲド・トロンボーンアンサンブルは2006年、ジョルジュ・ジヴィチャーンによりセゲド大学で彼に指示するメンバーにより選出され結成された。以来、数多くのコンサートをハンガリー国内で開催し大きな成功を収め、2012年にはジヴィチャーンへの師事によりアーティストとなったメンバーをベースとしてグループが再編された。メンバーの多くはジヴィチャーンへの師事ののち、さらにスイス、ドイツ、アメリカといった国々に留学し、室内楽や管弦楽団のメンバーやソリスト、また、ポルトガルやベネズエラ、ブラジルで教鞭を取るなど、多岐にわたり活躍している。
このアンサンブルはブラス音楽文化を体現しており、より高い水準を目指して研鑽を重ねている。さらに、グループは音楽アートディレクターとしてのジョルジュ・ジヴィチャーンとともに、トロンボーンという楽器の多用性を示すことを目指している。このグループのたゆみない楽器の可能性の追及とチーム・スピリットにより、幅広いレパートリーの中ではフルオーケストラのような響きが聞こえるであろう。
グループのレパートリーには数多くの編曲からなる作品が含まれる。それはルネサンス、古典派、ロマン派、現代音楽のみならず、レパートリーにより彩りを添える、ジャズやポピュラー音楽、映画のサウンドトラックなどの作品も演奏している。
編曲は、グループのメンバー、アロン・シモンが行っている。シモンは音楽コーディネーターや司会の役割も担っており、彼らのコンサートではその素晴らしい音楽に加えて、シモンによる作品や作曲家、使われている楽器についての解説も聞くことができる。
セゲドトロンボーンアンサンブルYouTubeチャンネル(Trombone Szeged)
セゲドトロンボーンアンサンブルFacebookプロフィール(Szeged Trombone Ensemble)
The Szeged Trombone Ensemble was founded by György Gyivicsán in 2006. Members had been selected from his pupils from University of Szeged. The ensemble has attended local and institutional occasions like Vántus István Contemporary Music Days and Szeged Artistic Academy but they performed their first concerts in 2009 in Szeged. Since their debut the concert takes place in University of Szeged – Faculty of Music during spring every year which attracts audience from all over of the region of Szeged. During 2010 the band performed numerous concerts in Békéscsaba and Szeged hosted by Philharmonic of Eastern Hungary. After the premier of Roundtrip – composed by Balázs Horváth – the ensemble had two weeks tour during the fall of 2011 in Germany combined with a CD recording. In 2012 the 10th National Brass Competition of Hungary was opened with the concert of Szeged Trombone Ensemble in Kiskunfélegyháza. During the summer the group recorded three transcriptions selected from Liszt Ferenc and Richard Strauss in order to comply the request of Ordo Hungarie.
Still in 2012, after exceeding preliminary expectations, the group has decided to re-establish the Szeged Trombone Ensemble on a new basis and proceeds with the already graduated pupils. The majority of the members of the group became artists by the teachings of György Gyivicsán and most of them continued their studies abroad in different countries like Switzerland, Germany and USA and joined chamber-, philharmonic orchestras or as a soloist. Some of them led courses in Portugal, Venezuela and Brasilia.
The ensemble represents brass music culture that is less known in Hungary and strives for high quality standards. Besides the group also aims to demonstrate the versatility of their instrument with their music art director, György Gyivicsán. The group has a wide range of repertoire and according to the continuous development of their instruments and team spirit they sound almost like a big symphony orchestra.
Because of the unique formation of the group the audience can hear and enjoy mostly transcriptions of compositions. The repertoire includes renaissance, classic, romantic and contemporary music. To make the repertoire more colorful the Szeged Trombone Ensemble plays jazz, pop music and soundtrack compositions as well.
The transcriptions are made by a member of the group, Mr. Áron Simon who also holds music coordinator and spokesman role in our concerts. Therefore the audience can hear exciting and interesting stories about the compositions, composers and about the used instruments as well upon the great music. This is why these events become special to the musicians and the audience at the same time. If you are interested Szeged Trombone Ensemble then you can find videos on our Youtube channel (Trombone Szeged) and under (Szeged Trombone Ensemble) Facebook profile.